Activities in FY2013
---
Exhibit Digital Grid at "Eco Product 2013"
Prof. Abe delivered a lecture, whose title is "Social Innovation lead by Digital Grid", in December 2013. Our exhibit, "Digital Grid - convergence of power and information", drew attention as the future grid renewing the nature of power supply. Eco Products 2013
---
Digital grid Solutions Inc has been selected!!
Digital Grid Solutions Inc.'s proposal for BoP business Promotion Survey has been selected.
Project title is "Preparatory Survey for BOP business on Rural Electrification Project Using Digital Grid". It plans to utilize Digital Grid concept for supply electricity to rural people and to launch new business by the electricity with KIOSK owners.
JICA Press Release
Representative Company

Digital Grid Solutions Inc(spin off company from Digital Grid Consortium)

Cooperative Company

Digital Grid Consortium, The University of Tokyo, Dentsu Inc., Millennium Promise Japan
---
Digitalgrid Inc. conducted private placement
Digitalgrid Inc. (CEO Atsushi Shito) which is venture company that was founded through the spin out from Digitalgrid Consortium last November conducted private placement of 200 million yen as destination underwriting UTEC third Investment Limited Partnership on Feb 14th, 2014.
The University of Tokyo Edge Capital Co., Ltd.
---
Inaugural Symposium of Digital Grid 2013 was held
Endowed Chair for the Digital Grid @ The University of Tokyo and Digital Grid Consortium was held the Inaugural Symposium on September 6th at The University of Tokyo. In the symposium, a variety of speakers (like University of Tokyo President, president of NEC, Vice-president of EPRI, and other) made speeches. Program of the Day
Materials provided by the speakers can be downloaded below.

Opening Remark Junichi Hamada (President, The University of Tokyo)



"A possibility of being based on fusion of electric power and ICT"Kazuo Furukawa (Managing Director, NEDO) slide material



"Renewable Energy and Electric Power Network in Japan"Keisuke Murakami (Director, New and Renewable Energy Division, METI) slide material



"Innovation in the power grid - Efforts by NEC"Nobuhiro Endo (President and CEO, NEC) slide material

"Social Innovation by Digital Grid"Rikiya Abe (Project Professor, Co-Chair of Digital Grid, The University of Tokyo) slide material



"Current Status of Digital Grid and Its Application"Kenji Tanaka (Project Associate Professor, Digital Grid, The University of Tokyo) slide material



"Expectation for Digital Grid - the possibility of cooparation with ODA -"Kazuhiro Suzuki (Director, Aid Policy and Management Division, MFAJ) slide material



"Expectation for Digital Grid from the perspective of Social Science"Toru Morotomi (Professor, Graduate School of Economics and Faculty of Economics, Kyoto University) slide material



"Expectation for Digital Grid and the policies for the Smart Community"Kiyoshi Sawaki (Director, Information Economy Division, METI) slide material



"Digital Grid Symposium Smart Grid Research at EPRI"Mark McGranaghan (Vice President, EPRI) slide material

---
WEF(World Economic Forum New York energy strategy Meeting) Report
Prof Abe took part in meeting for making Davos meeting theme as an expert. This is the meeting report.
Download this file
---
WEF-2013(World Economic Forum)invited Prof.Abe.
Prof. Abe was invited form WEF-2013(World Economic Forum). This Forum is going to discuss about Future energy model with some renewable energy companies and government officials of many countreis .

Material 1

Material 2
---
Joint evaluation with EPRI and NEC (June 2013)
Digital Grid consortium and NEC have conducted a joint evaluation of Digital grid router with EPRI in US last week. The evaluation was a success and we obtained beneficial results. We plan to present this result to the Society shortly.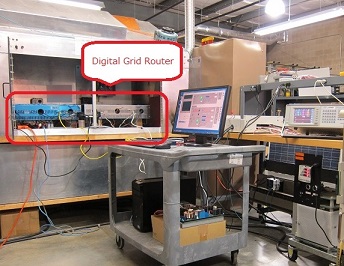 ---
Workshop with FREEDM in US
We plan to have a Workshop with FREEDM in June 12th in North Carolina. FREEDM is funded by National Science Foundation of 10 years and they are developing Digital Electric power converter in US.
U.S. government officials, Power companies and Manufacturer will be scheduled to participate.
Please refer to agenda as below. Download this file
---
African Fair in Yokohama
Our Solar Energy KIOSK prototype was exhibited at the African Fair in Yokohama 2013. A lot of African people showed very interested in our product and demonstration.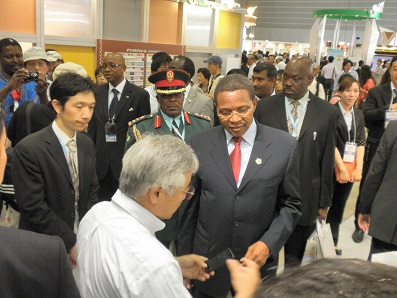 ---
Interview about Digital Grid(2): JCC Movie Theater
Pref.Abe has been interviewed about the possibility of the expansion of Digital Grid into developing countries.
---
Program No.2 was planned
development goals

development of power control system among end-users, Prototypes for Boost-House

development period

from FY2013 to FY2014